I'm not a very good Hallowe'en participant. I didn't dress up and I don't have any candy in the house, I didn't carve a pumpkin and I'm not planning to watch any scary movies..
However Hallowe'en does mean a bank holiday here, so I had a lovely long weekend with these guys: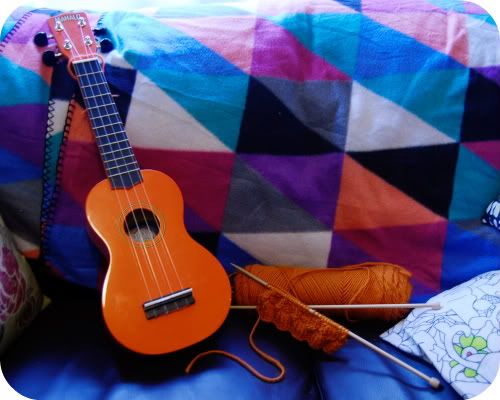 Mr. Ukulele and Mr. Knitting!
I've wanted to learn an instrument for so long but I kept putting it off because lessons are quite pricey. But fortunately, the ukulele is super easy to learn online! I used to play drums but I've never played a stringed instrument before. Over the weekend I've learned to play along with "Foundations" by Kate Nash and "In Five Years Time" by Noah and the Whale - it's so exciting! If you've ever thought about learning an instrument try a ukulele, it's fun and so satisfying to be able to learn a tune so fast. I've just been strumming away all day long with a big smile on my face. I can feel myself growing some callouses on my fingertips already, soon I'll be just like a pro.
Aside from ukulel-ing I also had time to finish another knitted Christmas present.
I got the pattern for this knitted kitty here. Hmm, now that I look at it, the original looks a lot better than mine.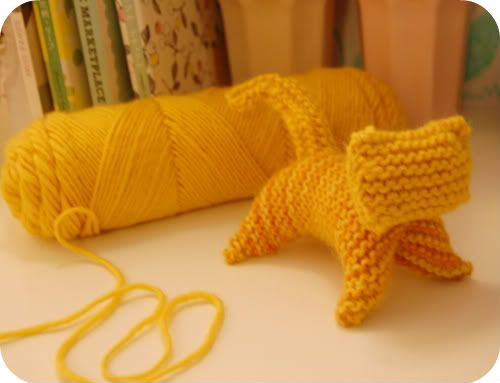 Luckily this little guy is a present for my friend's baby daughter Sadhbh, so I don't think she'll mind too much if he's a tiny bit wonky. Kudos to any non-Irish reader who can guess how the name "Sadhbh" is pronounced!
Did you do anything fun for Hallowe'en? Or do you like to hide like I do?