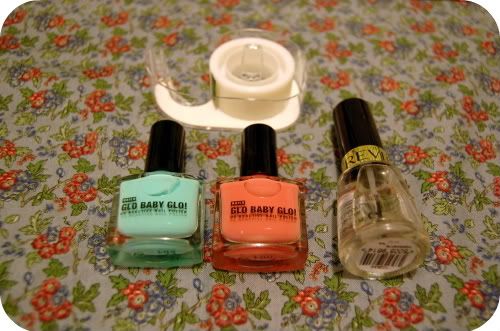 I'm not very good at painting my nails. I like having them painted but I hate how quickly they chip. I've only had a professional manicure once - at Wah Nails in Topshop, Oxford Street. It was amazing! So smooth and perfect, and it lasted over two weeks.
I thought I would give this lovely nail tutorial from the Dainty Squid a go, she makes it look so easy!
I meant to make a little tutorial but the whole thing was a disaster. It took over two hours for the various layers to fully dry, during which time I managed to repeatedly smudge my nails, and stick them together with the tape. Also instead of scotch tape, I bought "invisible tape" - NOT the same thing!
Even will all the smudging disasters, I don't think they look too awful (I am still waiting for someone to notice them however!)
My tips if you want to try this would be:
♥
Only use one layer of each colour and one of topcoat or it will never dry!
♥
Make sure you use scotch tape, any other kind is too sticky and will ruin design!
♥
Do not drink while you do this because a bathroom break will cause chaos!
So what do you think? Is nail art worth the faff?