I've been so thrilled some recent lovely blog comments about my hairstyle. I am obsessed with my hair - in that I am never, ever happy with it. It has a strong wave through it which has been the bane of my life, and it has never done what I wanted it to.
I've tried so many styles in my search for "the hairstyle" - the one that I'll love, that will make me feel gorgeous, the one that I won't have to beat my hair into submission to achieve. A selection of my past hair styles:
*
please excuse my silly face in these, they are for hair-illustrative purposes only!
Most recent was the long blonde hair which I chopped up into a crop last February. That was fun! I wanted to see what would happen - and now that I've seen it I want it long again! Not because I don't like it, but because I want CHANGE. This photo of Michelle Williams was the inspiration for my crop. I love her! And I still love this cut - I may return to it one day.
Next up I'm thinking of something like this - a bob with a fringe, then just keep it like that until it's long again! But maybe red. Or maybe dark brown (which is my natural hair colour). The other problem is that my hair grows super slowly. So many hairstyles, so little time!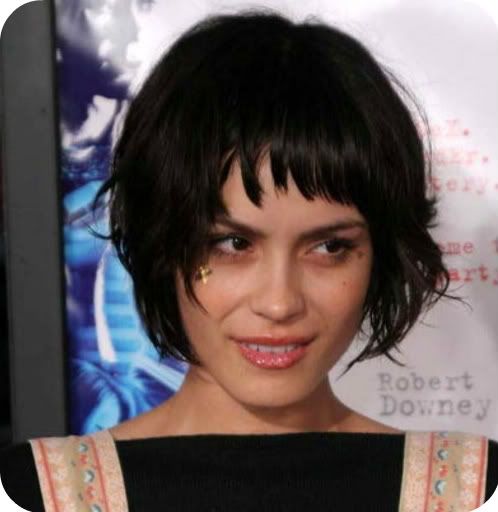 So do you think you've found your ideal 'do? Would you go for a crop? (I must say it was a scary step). Are you ever tempted to make a huge change?