I hope everyone had a delightful St. Patrick's day! If you have ever been to Dublin for St. Patrick's day you'll know that it's complete mayhem ("mayhem" being the polite word). It's basically an excuse for people to get incredibly drunk, the weather is pretty much always freezing - if not lashing rain, and the best part about the day in my opinion is that we get a public holiday. I had a sore throat over the weekend so I didn't partake in any drunken rampaging, but it did give me a chance to catch up on some knitting.
If you read this post way back in October, you might be wondering how that hat I was knitting turned out. Well wonder no more!
I gave it to my boyfriend for his birthday in December and only just robbed it back to take a photo. It turned out great, but I had made him one before that he had put through the washing machine and felted, so it wasn't my first time!
I'm very, very happy to say that I'm in the middle of knitting my first jumper at the moment! It's Kate Davies' amazing Owls pattern and if you're a knitter and/or a member of Ravelry then I'm sure you've seen it before. And if you are on Ravelry do add me!
This is how the finished sweater will look - just adorable. I don't care what anyone says, owls are not over!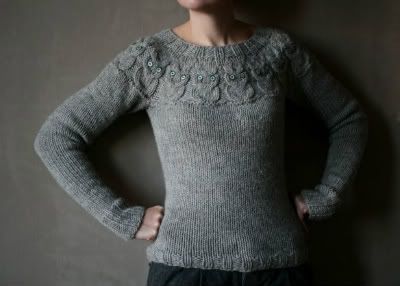 I'm knitting it in a light grey/pale blue colour and this is where I am so far - I haven't gotten to those tricky owls yet!
Are you crafting anything at the moment? Have you knitted yourself any items of clothing before? It seems like a real knitting rite of passage!