Hi folks! I'm just back from a trip to Brighton! If you don't know, it's a charming seaside town on the south coast of England. I'd never been there before but it totally lived up to my expectations! It was sunny, full of lovely friendly people, and we were staying in and B&B opposite a beach with cute multicoloured beach huts and wooden boats on the shore. I'm not a fancy schmancy blogger with Instagram but I did bring my lomographic camera, and I do have a scanner, so in a week or so I should have some lovely photos to show you all!
I decided to take this morning off work to have a nice post-holiday lie-in, which created the perfect opportunity to take some more photos of.. workwear!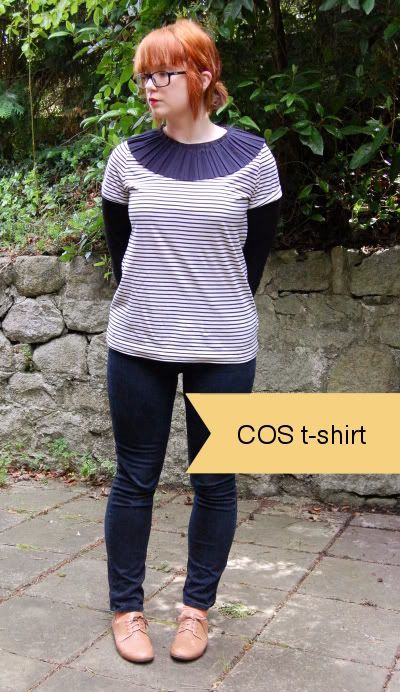 I got this awesome nautical t-shirt in Cos in Brighton. I love it but the ruff does make me feel a little Elizabethan, or maybe a bit like a clown.
The hazards of wearing a ruff on a windy day!
Do you have any holidays or mini breaks coming up? How's the weather where you are? It's still crazy here and I'm starting to think that we won't have a proper summer at all!